If you are thinking of purchasing a home or are just curious about where your credit score stands, there are some things you need to know. There are ways to track your credit reports for free. Where and how to obtain the correct information is essential, and knowing where to look is half the battle.

At TrustedChoice.com, the goal is to connect you with the right local adviser. There is a lot of mixed information out there, so going to a trusted adviser is your best first step.
Are Credit Reports Really Free?
According to Grant Botma with Stewardship Mortgage, annual credit reports are free. "What's even more interesting is that the federal government actually requires it", says Botma. "The Fair Credit Reporting Act (FCRA) mandates that you receive a free copy of your credit report annually if you so desire. There are three companies that will allow it, and they are Equifax®, Experian® and TransUnion®. "
How do you know which one is best and do they all do the same thing? Botma says, "One may be easier to use than the others. Experian® is noted to be a simple way to get access to your annual credit report."
Get Free Online Credit Reports
"When it comes to obtaining your free credit report, be cautious," says Botma. There are sites that collect your personal data and require the purchase of a product or monitoring system in order to have access. The most user-friendly site, according to Botma, is Experian®. The way to get your credit report on Experian® is to register directly through them. Once registered, you will be able to access your score in moments.
If you want access to all three, Equifax®, Experian® and TransUnion®, the Stewardship Mortgage team can help you go to each site separately and register through an all-access website that pulls all three at once. Be sure to get with Stewardship's team for reputable site recommendations. This will save you time and potentially money if you go to a scam site.
What your financial adviser should be telling you about your free credit report:
1. Which companies furnish your free annual credit report.
2. What your credit report means and how to improve it if needed.
3. When to pull your credit report and what each inquiry means.
4. Where to obtain your annual credit report by website or mail.
5. Why it is a good thing to check your credit report annually.
— Grant Botma
How to Get Your Credit Reports by Mail
If downloading your free credit report online isn't your thing, you can always order by mail. Your trusted adviser will be able to direct you to the US Mail Request Form to send in. Ordering by mail may seem more comfortable, however, there are still some inherent risks.
Ordering by mail risk factors:
Personal information could get lost in the mail and fall into the hands of an unwanted party.
It can take days and even weeks to get access to your free report if done by mail.
Documentation of where your personal data has traveled can be difficult and in some cases nonexistent.
If your mind is not at ease when entering your Social Security number or other personal information, then by mail could be a good option. Submitting your personal information online can be risky because of phishing schemes and scammers on the web. If you hesitate to put your very sensitive data out on the worldwide web, it's for good reason.
Identity Theft in the U.S.
Incidents of identity theft in the U.S. are in the hundreds of thousands, according to a 2019 poll. The number of crimes reported are staggering in each category, with the most frequent being credit card fraud. If you take a look at the chart below, you will see the number of claims per theft type in 1 year.
Number of identity theft complaints in the United States in 2019, by nature of crime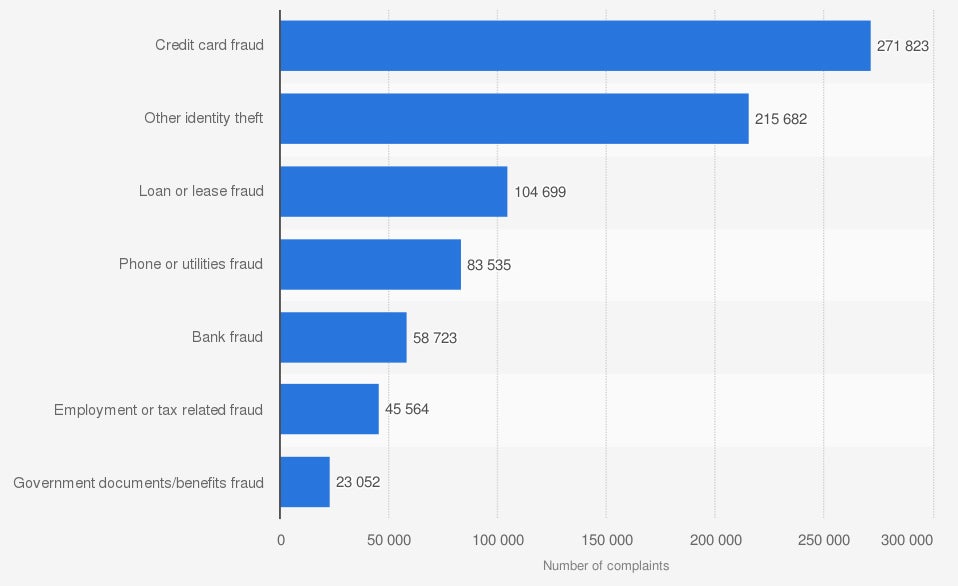 Source: Federal Trade Commission
©Statista 2020
Perhaps the best way to safeguard against identity theft is knowledge. The more you know about your own personal credit score the better. That means keeping up with your credit reports and asking questions. If you don't recognize a creditor or inquiry made in the past 12 months, investigate.
"Theft of personal information is the number one fear of consumers." —Botma
"In order to combat this fear, you should check it against your annual activity."
Minimum credit scores to qualify for a loan:
In addition to knowing what your personal credit score is, you need to know what it means. To obtain a mortgage or a personal loan, or to finance anything, you'll want to be in the top tier to get the best rates and make sure you qualify. Credit scores range from 350 to the 800s. However, Botma says you can probably still qualify for a mortgage even with a credit score of 660.
Credit Score Definitions:
660 and below:
Considered to be less than desirable, but still may be able to qualify for a mortgage or loan at a higher interest rate.
700-740:
Most loans qualify with a credit score in this range.
740-800s:
When you get above 740 credit score you are in an ultra-desirable range and it could pay off with lower interest rates and more loan options.
How and Why to Stagger Your Credit Reports
First, you'll want to know about inquiries. According to Botma and his team, it's not enough to simply get your annual credit score, you need to monitor the transactions. "These can be known as inquiries and not something to be fearful of," says Botma. He advises, "Don't freak out if you see an inquiry on your report that you don't recognize."
In fact, Botma and his team say many companies that would be pulling your credit score for a loan or purchase use third-party resources you may not know. When in doubt, call any source that ran your credit in the past 12 - 24 months and find out the name of their third-party vendor for verification.
Staggering your credit reports can be unnecessary, but one benefit would be to keep tabs on your credit reports throughout the year instead of only once a year. In order to stagger, you'll want to order your reports from the three different entities at different times of the year instead of all at once. Botma says tying back to inquiries, the type of pull that is done is the part that will have the most impact on your credit score. So, while you may have been told it was the number of hard pulls on your credit that caused it to decrease, this is only partly true.
Botma's Inquiry Example:
"Say you decide it's time to buy yourself a brand-new car and you need to finance a portion. Like any smart consumer, you don't take the first deal that comes your way but instead shop around at various dealerships. Each dealership has different vehicle and loan options, and at each dealership you have your credit score pulled to make sure you qualify. While you had your credit inquired on a few different times in a short period, it will look like you did responsible due diligence to make an educated decision.
"On the other hand, if you decide to open up 5 different credit cards and go on a shopping spree in a week's time, this will impact your score negatively. Mindless spending is different from a knowledgeable choice."